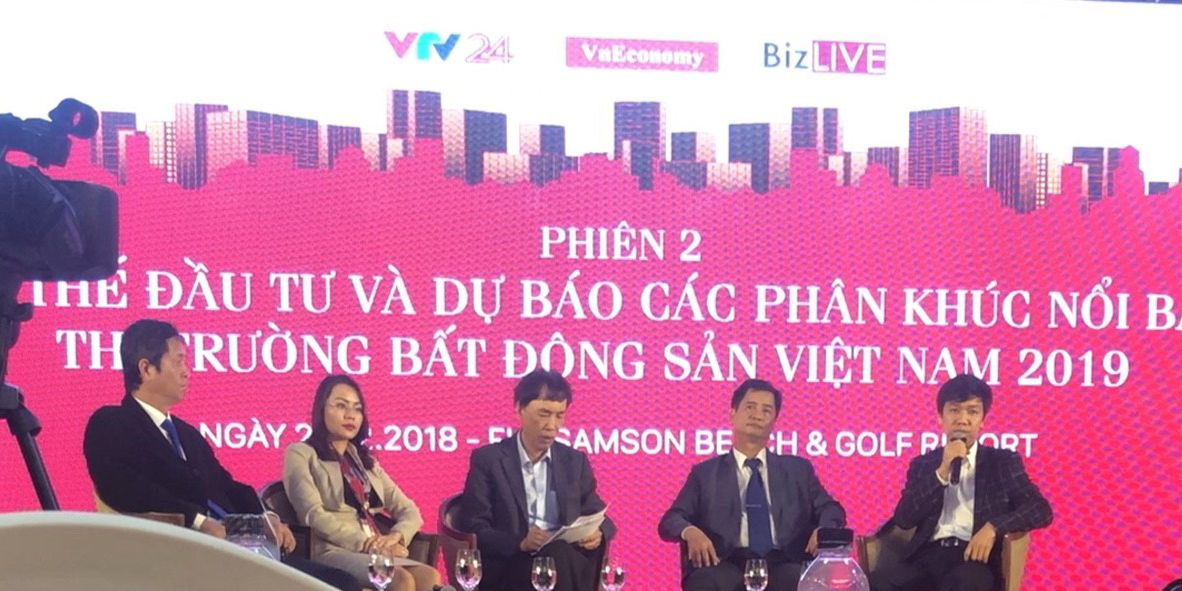 Proportion of balanced investment trend

According to Mr. Ha, the real estate investment market in 2019 will no longer be out of balance when focusing too much capital flow on one segment. The rate of investment trends will remain balanced, the absorption of any project is based on real market demand, virtual fever or price speculation will be minimized.
In the Vietnam Real Estate Transaction Market Report for the third quarter of 2018, provided by the Vietnam Real Estate Brokers Association, it is also clearly stated, "Based on the product structure, the market reaches the most reasonable balance. ever". The proportion of products launched in the segments reflects the true needs of customers. The market in the second half of 2018 has recorded a price stability, Condotel maintained at 35 – 55 million / m2, the land price has also been adjusted to a reasonable level, other types of products have remained stable or slight increase not exceeding 15%.
The balance of product structure and the price stability of the segments reflect the absorption needs from customers and the investment rate of investors is balanced.
Commenting on the investment sector shift, Mr. Ha added: "From 2016 to 2018, many investors prefer to invest far from the center of Hanoi, Ho Chi Minh City, but in 2019, Mr. Ha thinks that there will be differently, many investors will return to invest in real estate in the city ".
Higher demands from investors

Analyzing the changes of the real estate investment market in 2019, Mr. Ha emphasized the factor: "Current investors have more experience, so will require increasingly higher quality of products. Products must also have good infrastructure connectivity. "
According to Mr. Ha, an analysis with 65% of investors choosing Real Estate as an investment channel, the voting rate is much superior to investment channels such as 4% gold, sending 8% to banks. It is still an attractive, overwhelming and stable investment channel, bringing big profits to investors.
However, the way investors invest in Real Estate has changed. The market has passed the period of surfing investment with only small gains in the short term. Instead of massively investing, investors are no longer passive, they have more carefully selected and calculated when selecting projects, considering profit opportunities. , especially towards long-term and sustainable investment. This requires investors to change to launch real estate projects that meet the real needs of customers, persuading investors about profitability, liquidity.
In terms of distribution units, Mr. Ha affirmed that 2019 is not only a competition of investors but also poses changes to the distribution units themselves. The selection of distribution projects reflects the ability to capture market trends as well as assess the quality of each project's product to suit each customer.
New opportunities for investors

Commenting on the investment trend of products Mr. Ha said: "Criteria to choose an investment product now requires a balance between the three factors" Quality – Location – Price ". On the market today, the type of high-end real estate products with long-term ownership are doing very well on all three factors.
In terms of quality, because it is a time-limited project, the investor has invested, cared very carefully for design, furniture, utilities, services, many projects also meet utilities. Lifetime free and provide 5-star hotel services to residents.
In terms of location, most current-term ownership projects such as Indochina Plaza, Eurowindow, 5 Seasons, FLC Green Apartment … are located in central locations, convenient for transportation, infrastructure, and convenient connections. Very good
In terms of price, the price of this type of apartment is only about 25 – 35 million / m2 lower about 1/3 to half of the long-term projects of the same quality, the same location.
For investors, time-limited ownership projects are a great opportunity in 2019.